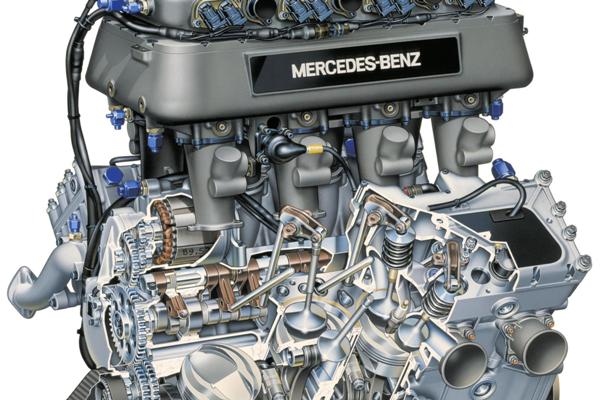 Presenting our greatest Tony Matthews cutaway yet: the most famous engine in Indy 500 history, the 1994 Mercedes-Ilmor pushrod V8. 
It's one of the great stories in Indy 500 history. Exploiting a broadly-written exception in the United States Auto Club rulebook that was intended to allow production-based powerplants to compete with exotic four-valve racing engines, in 1994 Ilmor Engineering executed a bold and brilliant coup. Working in total secrecy, the company developed a two-valve, cam-in-block version of its advanced Indy car engine, stunning the competition at Indianapolis that year and running away with the race. (We haven't read it yet, but there's a new book by Jade Gurss, Beast, that tells the whole amazing story.) 
With full and unprecedented access to all the Ilmor pushrod V8's secrets, thanks to his close relationship with Ilmor Engineering and Penske Racing, Tony Matthews included them in his amazing cutaway painting you see below. (Save one, the interior of the intake plenum, a highly sensitive area in those days). Among the many intriguing details, you'll want to take special note of the twisted combustion chamber and the cunning valvetrain with its pivoting cam followers and stubby pushrods. Here's Tony. 
Ilmor-Mercedes 500I/ Ilmor 265E
by Tony Matthews
In my days as an illustrator there were times when I was commissioned to draw subjects that were less than interesting, but they paid—to a lesser or greater degree—and kept my idle hands from mischief. It also meant that I had the opportunity to practice, practice, practice, an essential with any skill. However, every now and then a commission came along that really grabbed me—sometimes of subjects that I knew about and dreamed of illustrating, sometimes of subjects of which I had no inkling.
The Ilmor 265E was one of the latter, and the fascinating story of how the engine was conceived, designed, and built in total secrecy is now well known. I had already done a cutaway of the Penske PC23, in two versions, one being the Super Speedway set-up, in good time for Marlboro to use it for the Indy 500. When I saw the car it had a four-cam 2.65-liter engine with Ilmor badging, and this was what appeared in my illustration. Shortly after I mailed a set of transparencies to my Marlboro contact I had a panic-stricken call to say that the artwork—well paid for, I was reminded—was of no use, as the engine was totally wrong.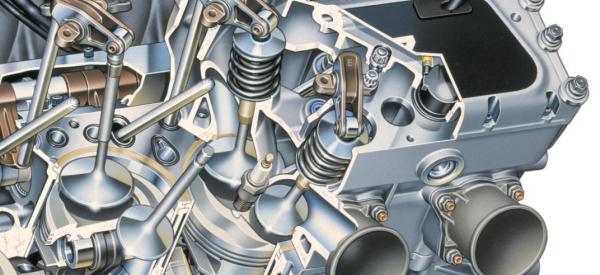 Apart from a brand new illustration, for which there absolutely no time, I guessed that it would be possible with the information to modify the original, and did my best to reassure my contact. Then a call to Penske Cars and one to Ilmor, and I made two quick trips. There was no engine at Penske, but I was able to see the modified engine cover and modified fin—a sudden change in Indy regulations meant that the full length fin had to be shortened—and check with the team what else had changed.
Then off to Ilmor, where I saw a block and heads, plenum (with "MOCK UP ONLY" chalked on it, very reassuring) and sundry bits. Due to the clever design of the engine it was exactly the same length as the four-cam. Moving the gearbox, underwing and rear suspension would have been a very difficult task in the time. I did an overlay of the pushrod engine and new, taller engine cover, tacked them onto the car artwork, had it re-photographed and rushed it to the States.
I had already illustrated the original Ilmor Chevrolet 265A engine and their first V10 F1 engine, and liked and admired the company very much. Paul Morgan in particular had always been very enthusiastic and helpful, but it never occurred to me that I would get the chance to do the pushrod engine. The call from Paul in May 1994 to ask me to do it was a moment of real joy.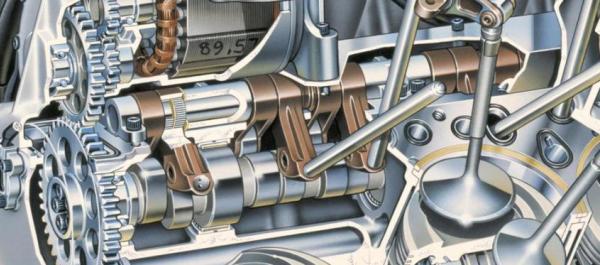 As usual I was given every drawing I asked for, and photographed every part, beautiful pieces of metal, machined, forged, investment cast, carbon fiber… everything. There was a very tight deadline, as Karl Ludvigsen had written a book about Ilmor Engineering. The story of the 265E was a late addition, and I will be forever grateful that Paul decided that a cutaway was essential.
I normally worked at a desk with the artwork flat, but because the engine was so tall I couldn't comfortably reach the top of the plenum, so I had to make an easel that bolted to the desk. I told Paul about this and he said "I hope it's CNC machined!". I said I had gone for a more traditional timber construction, and although this ate into the available time, I couldn't work without it.
As it is I had to make two starts on the airbrushing, as I made such a mess of the top of the plenum first time… Finally it was finished, but not before the deadline for printing the color sections of the book had passed, so it appeared as a grey-scale illustration, and to my relief the tonal range looked OK. What a company, what an engine, what a story. To be a tiny part of it at the end was a highlight in my illustrating career.
The cutaway image below is high resolution. Left-click to open and left-click again to expand to full size.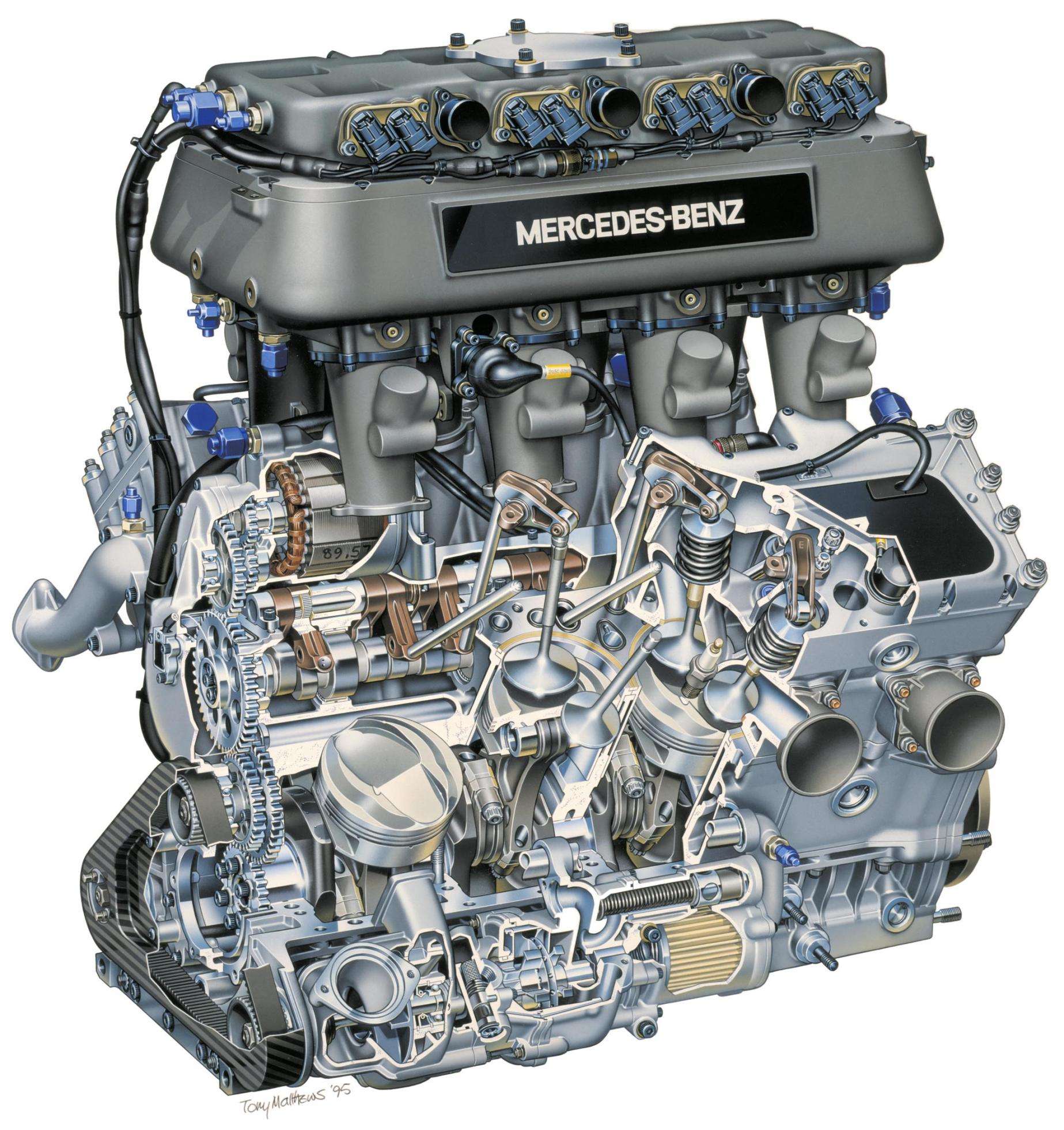 Text and images copyright Tony Matthews, all rights reserved. Used by permission. Be sure to see Tony's other great cutaways at Mac's Motor City Garage. Links open in new windows: